In addition to Acoustic microscopy machines with advanced features, INSIDIX offers a range of high performance ultrasonic components. 
Insidix is the representative company of
Okos for digitizers and specific transducers (France, Spain, Portugal and North Africa)
JSR Ultrasonics (Imaginant) for Pulser / receivers (system and cards), Remote pulsers, transducers, and all related cables. Our rep. area is France, Europe and Africa.
DPR 500
DPR500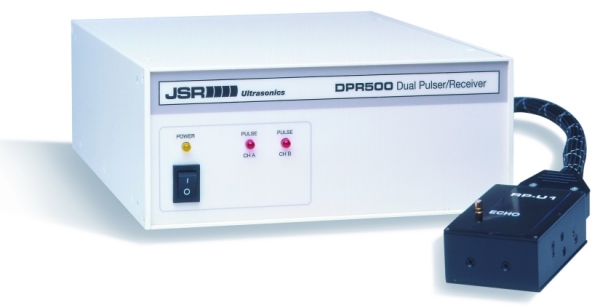 The DPR500 DUAL Pulser/Receiver is the first dual channel, modular instrument consisting of two complete pulser/receivers integrated into one unit. Receiver modules are currently available in the following bandwidths: 500 MHz, 300 MHz, and 50 MHz. The DPR500 may also be configured as a single channel instrument using any of the available modules.
Instrument functions include adjustable damping, gain, pulse amplitude, pulse energy, pulse repetition rate, high pass filters, low pass filters, echo or through mode select (dependent on pulser selection), and pulser trigger source.
The DPR500 includes a Windows-based software control program.
The DPR500 utilizes remote pulsers. This approach enables the pulser to be located in close proximity to the transducer, eliminating long lengths of cable that can produce undesirable reflections.
DPR500 Features
Configurable as a dual channel instrument with two independent receiver modules, or as a single channel instrument

Receiver bandwidth options up to 500 MHz

PC control of all pulser/receiver functions

Utilizes interchangeable remote pulsers
72/80 dB gain low noise receivers

Operates in both pulse-echo and through transmission mode

JSR Control Panel application and Software Developer Kit for Windows XP, Embedded, Vista, and Windows 7 (32 & 64 bit for all versions) are provided
Applications include acoustic microscopy, thin material or coating thickness gaging, computer controlled imaging and measurement systems, materials analysis and characterization, and transducer evaluation.
DPR 300
DPR 300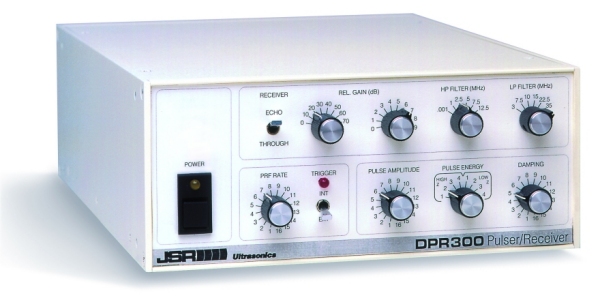 The DPR300 is a computer controlled ultrasonic pulser/receiver with an extremely low noise receiver. Instrument controls include receiver gain, high and lowpass filter cutoff frequency selection, pulse energy, pulse amplitude, pulser impedance, damping level, pulse-echo or through transmission mode select, pulse repetition rate, and pulser trigger source select. A Manual Control option is available.
The rapid-recovery receiver is fully shielded from electromagnetic noise and interference to ensure a high signal to noise ratio.
The DPR300 includes a turnkey software front panel control program to enable immediate usage in your application.
Features
35 MHz receiver BW (50 MHz and 60 MHz options available)

Noise level of 49 µVp-p input referred @ 35 MHz BW

User adjustable pulse amplitude up to 475V (900V pulse amplitude option available)

16 damping values

Selectable high and low pass filter settings (6 each)

Selectable pulser energy and impedance
80 dB receiver gain range

JSR Control Panel application and Software Developer Kit for Windows XP, Embedded, Vista, and Windows 7 (32 & 64 bit for all versions) are provided
Areas of application include computer-controlled imaging and measurement systems, NDE systems, R&D research and development, materials analysis and inspection, transducer evaluation, and exacting low-noise measurement systems.
PRC50
Pulser-Receiver PRC50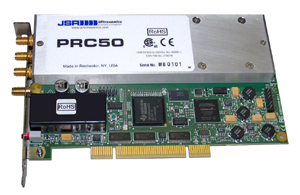 The PRC50 is a versatile single-channel Pulser-Receiver on a half-length PCI card. It is ideal for use in PC-based ultrasonic testing and inspection systems, and its small size and low power consumption enable systems to be implemented using portable computers. The PRC50 is provided with turnkey control software for Windows. A Software Development Kit and Programmer's Manual are provided for the development of custom applications.
PCR 50 features
Complete Ultrasonic Pulser-Receiver on a PCI format card

High gain, low noise broadband (50 MHz) receiver

T/R, Through and 'Both' transmission modes

Separate Gain control of T/R and Through

Selectable high pass and low pass filters

Fast (6 ns) pulser initial transition

PRF rates selectable from 100 Hz to 5 kHz

JSR Control Panel application and Software Developer Kit for Windows XP, Embedded, Vista, and Windows 7 (32 & 64 bit for all versions) are provided
The full-featured PRC50 is an excellent choice for PC-based ultrasonic system applications including flaw detection, quality assurance, material characterization, transducer testing, and time of flight measurements.
Digitizers A/D board
Digitizers A/D board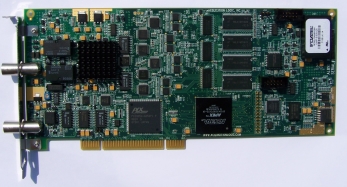 Large Range of products. Depending on product :
– 1, 2 or 4 channels
– sampling rate: 100MHz, 250MHz, 1GHz, 1.5GHz, 3GHz
– 8 bit, 12 bit
REMOTE PULSERS
REMOTE PULSERS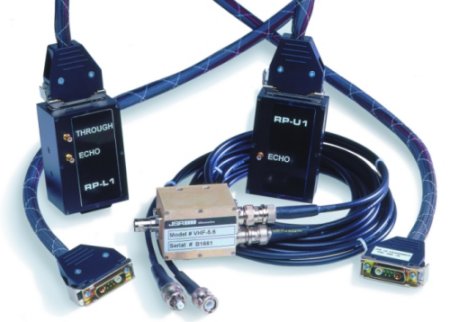 When your application requires the transducer to be located at a distance from the receiver, or uses a transducer with a center frequency greater than 50 MHz, there are a number of significant performance advantages gained by minimizing the cable length between the pulser and the transducer. In these applications, remote pulsers and remote pulser/preamps exhibit outstanding performance, and provide substantial improvement in system flexibility. JSR Ultrasonics provides remote pulsers for all of our high frequency instrumentation.
TRANSDUCERS
TRANSDUCERS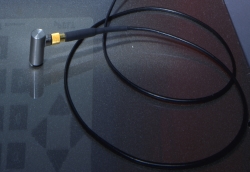 Choosing the right ultrasonic transducer is crucial for successful testing.
A large range of ultrasonic transducers are available, in different modes:
– fingertip contact,
– delay contact
– immersion,
combined to a large panel of frequencies F from 1 MHz to 300 MHz
and focal length FL up to 60mm
Custom designs are also manageable.